Castle Gardens Capital Campaign
Discover a Magical Garden…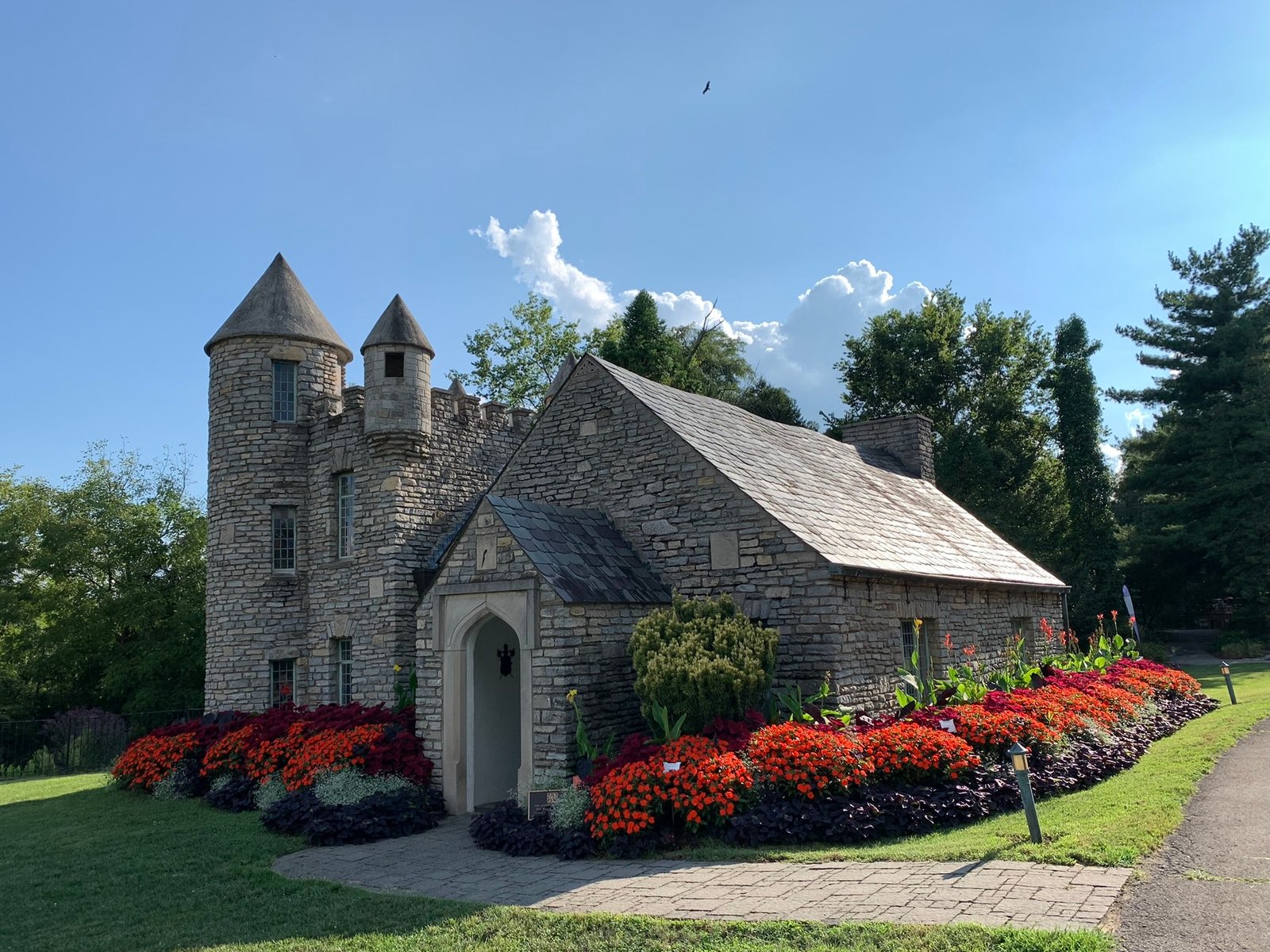 . . . an ever changing landscape that sparks the senses, inspires the mind, and nourishes the soul. Stroll through 60 acres of gardens and meadows and woodland trails where ponds teem with kingfishers and Sandhill Cranes. Explore enchanted fairy forests through the eyes of a child.
This is the magic of Yew Dell Botanical Gardens.
Twenty years ago, the gem that is now Yew Dell was nearly lost to development – the gardens and plants, the artfully crafted buildings were all in serious trouble, the land threatened by the bulldozer's blade. But with grit and toil and unfettered determination the property was saved, the gardens brought back and the buildings lovingly restored. 
Since 2002, Yew Dell Botanical Gardens has been a thriving center of horticulture and a cultural cornerstone for the community.  Now 20 years into its incredible growth, each year Yew Dell welcomes visitors from all across Kentucky and around the globe. Yew Dell's talented staff has a deep passion for plants and gardens and a powerful connection to the land. In a very short time, Yew Dell has rapidly become an internationally respected institution that we in and around Kentucky get to call our own.  But we're far from finished . . .
Through the Castle Gardens Campaign, our most ambitious capital campaign project in our history, we are excited to embrace our mission to:
spark a passion for plants and gardening through accessible science and inspiring beauty.
The iconic castle will rise from newly designed gardens. The reimagined arrival experience will orient visitors towards discovery and surprise while providing accessibility for all. This project will plant the seeds to inspire and teach future generations. Yew Dell will emerge as a treasured crown jewel as we embark on this exciting, transformational project.
As we celebrate our 20th anniversary, a new era is dawning in the garden. We invite you to be a part of this spectacular bloom!
Since its earliest days, Yew Dell Farm – the home, farm and commercial nursery of Theodore and Martha Lee Klein and their family – has been a place of innovation, passion and celebration of Kentucky. From the artistry of  the buildings and gardens to the obvious respect for the land, to the passion for plants and gardens and nature – Yew Dell Botanical Gardens has a rich and vibrant heritage.
In 1941, Theodore and Martha Lee Klein purchased 34 acres of Kentucky farmland to build their nursery, farm and homeplace. And over the decades they built a thriving business and a shining jewel of horticulture, architecture and history. Following the passing of Martha Lee and then Theodore in the late 1990s, the property was under threat of being lost to the pressures of development. Fortunately, a local group of passionate and forward-thinking citizens recognized the importance and potential of the property and worked to acquire and develop it into a world class botanical garden.
Over the last 20 years, that initial board along with the professional staff that would follow have built Yew Dell Farm into an innovative leader in the world of horticulture. Now recognized by its listing on the National Register of Historic Places, cited as a top 10 Destination Garden by Horticulture Magazine, Southern Living Magazine's Best of the South, with educational programs recognized by the US Department of Education and a long list of architectural awards for sensitive and innovative rehabilitation, Yew Dell Botanical Gardens has become one of the most recognized institutions in the region.
With thousands of visitors annually from all across the globe, more than 1,700 active memberships and hundreds of volunteers, Yew Dell Botanical Gardens is a strong and growing organization. And with five successful capital campaigns completed in its first 20 years, the organization is poised for its next phase of growth.
The Castle Gardens Campaign
2022 marks Yew Dell's 20th year since the property was snatched from the jaws of development pressure and plans were made to turn it into a botanical garden. The past 19 years and 5 capital campaigns have been spent successfully building a strong and purposeful organization, rehabilitating the National Register listed buildings and grounds, and creating now-internationally recognized plant collections, gardens, education programs, plant evaluation research, and a nursery that sells the very best garden plants available.
 While Yew Dell's first five capital campaigns focused on saving and rehabilitating the buildings and property, the Castle Gardens Campaign represents Yew Dell's first capital campaign devoted entirely to gardens.
The Castle Gardens Campaign Project Goals
Create a completely re-imagined entrance experience that will allow Yew Dell's unique story to unfold as visitors first experience the grounds

Transform the Castle Terrace space into a stunning horticultural display garden with extensive new plantings, demonstration rain gardens and enhanced and shaded seating throughout

Recreate the original Klein family swimming pool on the Castle Terrace as a dramatic water feature and display space for water plants

Develop a dramatic transition from the upper Walled Garden, to the main Castle Terrace and to the lower Overlook Garden and Pollinator Meadow spaces with a series of grand stair cases and fully accessible ramps

Add significantly to the ability to accommodate increased visitation and expand the capacity for revenue-producing events

Through endowment funds raised for this project, add a full time horticulturist position to ensure the highest level of horticultural management of Yew Dell's gardens
Richard Hartlage, Land Morphology
To guide this project to a successful completion, Yew Dell has engaged the Seattle, Washington, firm of Land Morphology. Founded by renowned horticulturist and designer Richard Hartlage, Land Morphology is focused on creating rich, emotive places across the country. The firm is comprised of a talented interdisciplinary team of landscape architects, designers, urban planners and horticulturists, who create highly varied spaces that integrate exquisite built form, sophisticated horticulture, and the fine arts. Each space is uniquely memorable, vibrant, carefully crafted, and environmentally sustainable. 
An added benefit to the firm's selection for this project is that founding partner, Richard Hartlage, grew up in Crestwood, Kentucky, and knew Theodore Klein whose property now serves as the core of Yew Dell Botanical Gardens.
Dr. Paul Cappiello
Executive Director, Yew Dell Botanical Gardens
Yew Dell's staff is led by Dr. Paul Cappiello, internationally known plantsman, researcher, garden designer, and for the last 19 years, executive director of Yew Dell Botanical Gardens. Along with a talented staff and strong board of directors, in the last 20 years the organization has grown from one part-time staff member to a staff of 24, a board of 17and a track record of having raised more than $30 million to build a highly respected and admired organization.
Planning and design

$300,000

Project administration and project management

$150,000

Fundraising and recognition

$50,000

Contingency (10%)

$500,000
20% of all campaign gifts will be held in Yew Dell's endowment accounts to provide ongoing operating funds for the gardens
Follow our progress as we grow!
Name the Castle Gardens

$1,000,000

Name recognition for the overall Castle Gardens project

Castle Reflecting Pool

$250,000

(Reserved) The central attraction of the castle terrace space and a reinterpretation of the original Klein family swimming pool. It will serve as a place to exhibit unique water plants

Castle Terrace and Event Space

$250,000

With stunning views of the pollinator meadow, this space in front of the Castle will be popular event space

Terrace Arbor and Seating Space

$200,000

An architectural, shaded respite with inviting seating that overlooks the Castle and Reflecting Pool space

Overlook Terrace

$200,000

This elevated stone terrace and seating are sits at the top of the Grand Staircase and Ramps, providing stunning views of the Castle and Reflecting Pool space

Grand Staircase and Ramps

$150,000

Stunning gardens and stonework provide a fully accessible transition from the upper Walled Garden to the Castle Terrace space

Meadow Staircase

$100,000

This transition from the main Castle Terrace to the lower overlook garden provides access to Yew Dell's pollinator meadow and hiking trails

A geometric tree canopy to provide architectural elements and a shaded respite for visitors

(10 available) Cast bronze markers embedded in and along new, fully accessible circulation paths

Castle Terrace Benches

$20,000

(6 Reserved) Central to the Castle Terrace, these benches will surround the new reflecting pool.

(9 reserved) Stylish seating throughout the gardens to provide visitors a place to enjoy the stunning surroundings
*With a gift of $2,500 or more, your name(s) will be prominently displayed on the Donor Display to recognize your generosity and support of the Castle Gardens Campaign.