Horticulture Apprenticeship
Training the next generation of industry leaders.
Want to work in an inspiring environment with inspiring people?
Yew Dell Botanical Gardens' Year-long Horticulture Apprenticeship provides recent college graduates the opportunity to gain hands-on experience and have exposure to all the workings of a public botanical garden. With more than 60 acres of gardens, arboretum plantings, natural areas, greenhouse and nursery facilities, Yew Dell offers an excellent opportunity for exploration in a variety of experiences. The apprenticeship provides a springboard to a creative and productive career within various fields in the green industry.
As an Apprentice you will...
Learn from experienced Horticulturists.
Apprentices will work alongside Yew Dell professional horticulturists in plant collection maintenance, propagation, sales, design, and installation. Having experience in floriculture, greenhouse and nursery production, turf management, landscape design, horticulture education, equipment operation, and arboriculture, our staff has a lot to offer.
Attend local and out-of-state conferences.
A huge part of a successful horticulture career is creating a thriving professional network and continuing education outside of a classroom setting. Yew Dell supports its apprentices and staff to attend a variety of events for this exact purpose. Whether you're interested in native plants, propagation, perennials, or garden design there is always a conference to attend and a class to take.
Network with other Gardeners.
Having over 300 volunteers, annually, Yew Dell has an outstanding network of gardeners. From the Master Gardeners to the Hosta experts our volunteers have a wonderful wealth of knowledge and a huge passion for plants. Apprentices will have the opportunity to work alongside, learn, and educate the people that make Yew Dell such a special place.
Share your love of plants with the general public.
Apprentices hone their public speaking and presentation craft by organizing and leading a variety of plant walks, workshops and demonstrations for staff, volunteers and visitors. Topics can cover a broad range of subjects of interest to both apprentices and their audiences.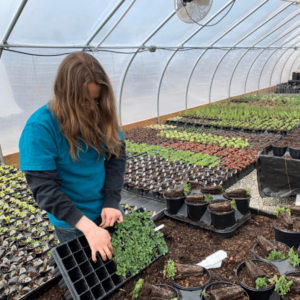 Assist with Plant Production & Sales
Yew Dell produces and sells the widest diversity of plants in the region. From product selection to propagation and production, marketing, sales and back end management, it provides apprentices an excellent introduction to the particulars of running a retail or wholesale plant operation. Both in person and online sales are in full swing at Yew Dell and apprentices can dive deep into either or both.
Share your love of plants with the general public.
On-site housing is provided to apprentices during the duration of the 12 month program. The beautiful 2-story stone cottage was built by Theodore and Martha Lee Klein for their daughter Marian Klein, a photographer and passionate gardener. Remodeled, this home has 3 bedrooms, 2 bathrooms, 2 kitchens, 2 living rooms, washer and dryer, lots of charm, and only a 1 minute walk to the gardens.
Apprentices are provided:
Free housing including all utilities except telephone
An hourly wage equal to the then prevailing federal minimum wage rate
Access to Yew Dell's wifi network (in office and limited areas on the grounds)
Yew Dell shirts to be worn during work hours
Support for attendance at green industry conferences, programs and events
Up to 20 days of unpaid leave during the 12-month apprenticeship
Apprentices are expected to:
Complete the 12-month program
Live in Yew Dell provided housing
Provide appropriate transportation
Work a regular 40-hour work week with varying days and hours
Assist other Yew Dell staff with occasional program staffing outside normal work hours
Interested in becoming a Horticulture Apprentice in the future?
Visit Yew Dell: Potential apprentices are encouraged to visit the gardens on a tour or participate in a volunteer shift.
Questions about the program? Interested in visiting? Please send an email to our Gardens and Arboretum Manager below for more information.​
Hear from past Horticulture Apprentices:
The apprenticeship program is a rewarding experience for anyone looking to expand their knowledge in horticulture, communication skills, and the world of public gardens. The staff at Yew Dell are incredible to work with, and without the my experience at Yew Dell, I wouldn't be where I am today!
The apprenticeship program allowed me to explore the many facets of public gardens, such as garden design, volunteer management, and plant production. This opportunity opened many doors for me at other well-known and renowned gardens and I couldn't be any prouder to be a part of the alumni of this program.
Yew Dell is a family, you feel at home when you are away from your own.You never know what to expect when moving to a new state, with new faces, and a new job; I can wholeheartedly say it was meant to be. The skills you obtain are invaluable and prepare you for a bright future in horticulture related fields.