From Beginning Gardener to Master Gardener, there's a place for everyone.
Yew Dell has a dedicated group of volunteers with a large range of skills that help at special events or in day to day activities. We would love to have you join our group of wonderful volunteers!  Whatever your skills or experience, we have a project that could use your talent. Coming out to volunteer is a great way to meet new people, learn more about gardening, or develop a new skill. Yew Dell provides a beautiful outdoor setting to work in individually or as a group. We have opportunities that are great for novice gardeners, Master Gardeners, or even those who are not blessed with a green thumb.
RSVP today! On May 18, meet and mingle with other volunteers, walk the gardens with our staff, participate in a plant swap (take a plant, leave a plant!), and celebrate your grand accomplishments from 2021!
Registration will close on May 11, so don't miss out!
Our goal is to empower all volunteers to contribute to the mission of Yew Dell while providing a rewarding and engaging experience where all contributions are valued and appreciated.
Barbara has been coming out to help since 2014.  She is a great example of the symbiotic relationship that many experience.  Spending most of her volunteer hours in the nursery she has become a big part of the small community that has grown out of the nursery in the last few years.  She has partnered up with another nursery volunteer to coordinate days to help out together.  It is a great example of what can happen when you volunteer at Yew Dell.  It may start as just coming out to fulfill hours for a Master Gardener program but grows into a weekly reason to visit friends, help out the garden, and learn more about plants each time!
Training and materials are provided for all positions. Keep in mind if you are working outside that you will want to wear comfortable shoes and clothes you don't mind getting a little dirty.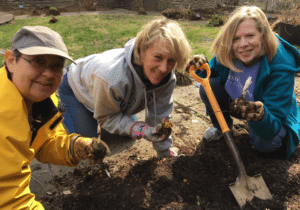 If you love being outdoors and around plants Yew Dell can always use a few more gardeners – whether beginner or expert! The need in the gardens changes from season to season, but there is always plenty that needs to be done. Tasks include weeding, pruning, mulching, raking, planting and more.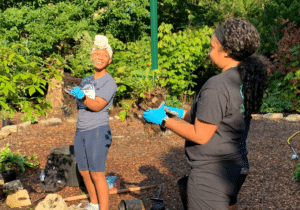 A tradition at Yew Dell since 2002, this is a great opportunity to get a taste of what volunteering in the gardens is like before attending an orientation to learn more about volunteering. Come out, meet other volunteers, work in the gardens and have a great time! Individuals and groups welcome.
Orientation required after participating in two Saturday Workdays.
Administrative
Opportunities
Work with us behind the scenes on a variety of projects including assembling marketing folders, branding bags, and occasional clerical work.
Looking to get involved? You're in the right place! Join us for a Volunteer Orientation session to learn about all the volunteer opportunities Yew Dell has to offer and how to join our team!
Please note that participants under the age of 18 must be accompanied by an adult to orientation. See FAQ below for more information about youth volunteers.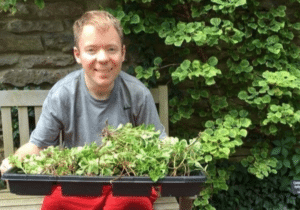 Are you interested in a "behind the scenes" look at how plants make their way through the nursery then into our garden and gardens throughout our community? Reach out to learn about how to get involved in the Nursery Program!
Orientation required; limited spots available
Our photographers work to capture the beauty of the gardens as well as the human element. The photos and videos provided by our volunteer photographers may be utilized in social media posts, website updates, printed publications and more.
Yew Dell has a fascinating history, beautiful gardens, and lots of charm to share with guests. If you want to learn more about Yew Dell and share that information, then this is the perfect task for you! Mandatory orientation and training are required for those approved for this role.
Help to spark the imagination of visitors of all ages! Fairy volunteers get creative building houses for our Fairy Forest as well as assisting in its maintenance throughout the year.
Orientation may be required 
Join Yew Dell Horticulturists as they install this seasons summer annual displays. Volunteers will assist with removing spent spring bulbs, layout of annual plantings, and plant over 3,000 summer annuals, all across the gardens.
Dates: May 11-13 & 18-20; AM and PM shifts available
Click the icon below to visit our Yew Dell Volunteers Facebook Group. Join for even more updates, stories, and fun!
Sign up for our monthly Volunteer eNews