From Beginning Gardener to Master Gardener, there's a place for everyone.
Yew Dell has a dedicated group of volunteers with a large range of skills that help at special events or in day to day activities. We would love to have you join our group of wonderful volunteers!  Whatever your skills or experience, we have a project that could use your talent. Coming out to volunteer is a great way to meet new people, learn more about gardening, or develop a new skill. Yew Dell provides a beautiful outdoor setting to work in individually or as a group. We have opportunities that are great for novice gardeners, Master Gardeners, or even those who are not blessed with a green thumb.
Our goal is to empower all volunteers to contribute to the mission of Yew Dell while providing a rewarding and engaging experience where all contributions are valued and appreciated.
Maxine adopts our Serpentine Garden, which houses the Fairy Forest, and eagerly joined our recently-created Fairy Forest Committee. She helps keep the garden beautiful and the Fairy Forest welcoming to guests of all ages.
Her creativity, passion, and delightful demeanor truly make Maxine shine at Yew Dell.
Training and materials are provided for all positions. Keep in mind if you are working outside that you should wear comfortable, close-toed shoes and clothes you don't mind getting a little dirty.
Want to get involved? Join a Volunteer Orientation to learn about all the volunteer opportunities Yew Dell has to offer! Register above to receive instructions on how to sign up for an upcoming orientation.
We request reattendance of orientation if two years have lapsed since one's last volunteer date with Yew Dell.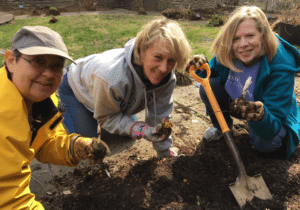 If you enjoy the outdoors and plants, we want you to join our team – whether beginner gardener or expert! If you want to help with a diverse range of projects, working closely with our staff, this is the opportunity for you! Needs on the grounds change seasonally, but may include specialized tasks such as pruning, plant cut back, plantings, trail work, and weeding
Orientation required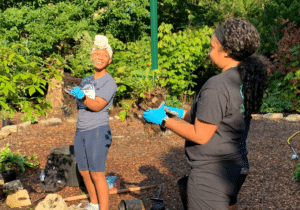 A tradition at Yew Dell since 2002, this opportunity allows you to get a taste of volunteering with Yew Dell. Meet our staff and other volunteers, get your hands dirty, and have a great time! Tasks may include weeding, mulching, planting, invasive removal, and more.​ Individuals, families, scouts, and groups welcome.​
Attending orientation is recommended after participating in two Saturday Workdays.
Upcoming Seasonal Opportunities
If you're feeling creative, this is the opportunity for you! Sign up using the button above to receive information about building and lending Yew Dell a fairy house for the 2023 season. 
Registration will close May 31, 2023
Join us as we welcome Spring and our 2023 season with our Opening Day Plant Sale on March 25, 2023.
Volunteer opportunities include Plant Hauler and Information Booth assistant.
Orientation required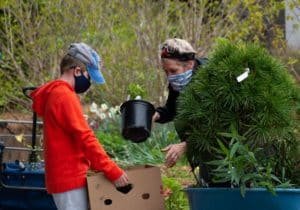 Join us for our biggest plant sale of the year on April 28 and 29, 2023! 
  Volunteer opportunities include Plant Hauler and Information Booth assistant.
Orientation required
Other Volunteer Opportunities
Administrative
Opportunities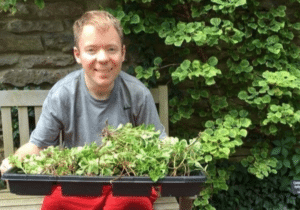 Are you interested in one of the opportunities above? Contact us using the button below for more information!
Click the icon below to visit our Yew Dell Volunteers Facebook Group. Join for even more updates, stories, and fun!
Sign up for our monthly Volunteer eNews